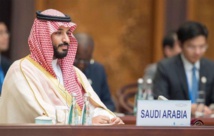 The journalist was killed last month at the Saudi consulate in Istanbul. Saudi officials, who have repeatedly changed their story, deny reports that the prince is linked to the murder.
Mohammed and Russian President Vladimir Putin had a warm handshake, including some friendly hand slapping, while they laughed in front of the cameras just as the first session of the leaders' summit was getting under way.
US President Donald Trump's office confirmed that he "exchanged pleasantries" with the crown prince, though a senior official insisted it was nothing more than the gestures extended to all leaders at the summit.
Trump denied holding a "discussion" with the crown prince but also would not rule out having one in the future.
In front of the cameras, Trump and the prince largely ignored each other. Several other world leaders worked the room and managed to avoid direct contact with Mohammed.
British Prime Minister Theresa May said she would meet Mohammed, and French President Emmanual Macron held talks with the prince briefly on the sidelines.
Donald Tusk, president of the European Council, said European Union countries at the summit agreed that adding an "international dimension" to ongoing probes "could enhance the credibility of the Saudi investigation."
Khashoggi, a Saudi national and a vocal critic of Mohammed, was killed inside Riyadh's consulate in Istanbul last month. This month, Saudi prosecutors said they were seeking the death penalty for five out of 11 Saudi nationals indicted in relation to Khashoggi's death.
Mohammed, the Saudi heir apparent, is representing the oil-rich kingdom at the G20 summit.
He already held talks in Buenos Aires with Indian Prime Minister Narendra Modi on Thursday, and they discussed investment.
Modi and MbS, as he's known at home, also discussed Saudi readiness to cover all of India's oil and fuel needs, the state Saudi news agency reported, without giving details.
Saudi Arabia is the world's top oil exporter.
Mohammed, 33, is championing an ambitious scheme aimed at diversifying Saudi Arabia's oil-reliant economy, though so far most of his plans have hit walls.