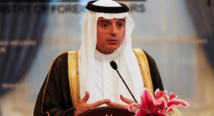 "Now there are troops coming from Syria which are being sent over from Turkey," the Saudi official told dpa on the sidelines of the Munich Security Conference.
"Of course, none of this helps at all and only brings more instability," he asserted. This also applied to ongoing arms deliveries.
Prince Faisal said he could imagine an international peacekeeping mission for Libya going forward.
He said this could be an option "if the process is proceeding in the right direction", but added the time was not right yet.
On Sunday, around a dozen foreign ministers and representatives of international organizations are to discuss progress on ending the conflict in Libya at the conference.
The meeting chaired by German Foreign Minister Heiko Maas and the UN representative for Libya, Ghassan Salame, is to review implementation of measures agreed on at a summit in Berlin four weeks ago, including compliance with an arms embargo and the continuation of talks between the warring factions.
Libya has been in turmoil since the 2011 overthrow of dictator Moamer Gaddafi and has become a battleground for rival proxy forces.

The country has two competing administrations: the UN-recognized, Tripoli-based Government of National Accord (GNA), and the Libyan National Army (LNA), which is led by rebel commander Khalifa Haftar and based in the eastern city of Tobruk.

In April, Haftar launched a campaign to seize Tripoli from the GNA, dramatically escalating the crisis.