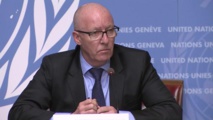 Jamie McGoldrick,
Jamie McGoldrick, the UN humanitarian coordinator for Yemen, said Thursday in a statement that 68 civilians were killed by airstrikes on a single day in two embattled cities in Yemen.
Spokesman for the Saudi coalition, Turki al-Malaki, said McGoldrick's statement was "misleading" and "biased" in favour of the Iran-allied Houthi rebels.
"The information he mentioned in his statement was not verified or proved, a matter confirming his bias towards the Houthi militias and his politicization of humanitarian work," al-Malaki added, according to Al Arabiya.
"The UN needs to revise mechanism of humanitarian work and efficiency of its employees in Yemen," al-Malaki added.
Airstrikes on a market in Yemen's south-western province of Taiz on Tuesday killed at least 54 civilians, including eight children, according to McGoldrick.
Also Tuesday, an airstrike on a farm in the western province of Hodeida killed 14 people from the same family.
"These incidents prove the complete disregard for human life that all parties, including the Saudi-led coalition, continue to show in this absurd war," McGoldrick said Thursday.
Saudi Arabia has been leading an air campaign against the Houthis in Yemen for more than two years. The Saudis fear that the rebels will give their regional rival, Shiite Iran, a strategic foothold on the Arabian Peninsula.