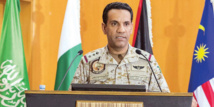 "Major developments will take place on the Hodeida front after its airport was fully liberated," coalition spokesman Turki al-Malki told Al Arabiya broadcaster in an interview from Brussels.
He added that the Yemeni army is clearing the airport of mines planted by the Houthi militias and attacking some pockets around the facility.
Last week, Yemeni government forces, backed by the Saudi-led coalition, started a campaign to retake Hodeida, which has been under the control of the rebels since late 2014, when the Houthis seized the capital Sana'a.
Earlier on Wednesday, a commander from the United Arab Emirates (UAE) said the airport was fully cleared of the Houthi rebels.
"The airport was completely cleared, thank God, and is under control," Abdul Salaam al-Shehi said in a video posted by the UAE's official WAM news agency.
The UAE is the second key player in the coalition against the Houthis after Saudi Arabia.
Yemen's conflict worsened in 2015 when Saudis and other Sunni allies started an air campaign in the country against the Houthis after the Shiite group advanced on Aden.
Saudi Arabia fears that the rebels will give their regional rival, Shiite Iran, a strategic foothold on the Arabian Peninsula.