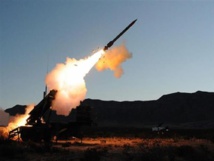 The coalition's spokesman Turki al-Malki said the missile had targeted civilian facilities in the south-western Saudi city of Najran near the border with Yemen, the state Saudi news agency SPA reported.
An unspecified number of civilians were injured by shrapnel from the missile, according to the official.
There has been no comment so far from Yemen's Houthi rebels.
Yemen has been in the grip of a devastating power struggle since the Houthis took over the capital Sana'a and other cities in late 2014 from a Saudi-backed government.
The Houthis' advances on the government's temporary capital of Aden prompted Sunni Muslim Saudi Arabia to form the coalition and start an air campaign against the Shiite group in March 2015.
The conflict has pushed Yemen, already one of the Arab world's poorest countries, to the verge of famine and devastated the country's health facilities.
In late April, the Saudi-led coalition extended a temporary unilateral ceasefire in Yemen for a month, saying the step aims to back UN peace efforts and focus efforts on curbing an outbreak of the new coronavirus in the country.
The coalition and the Houthis have traded blame for violating the truce.