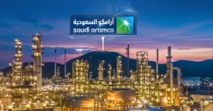 Up to 0.5 per cent of the state-owned company's shares are to be sold to individual investors, while the remaining 1 per cent are being offered to institutional investors.
Aramco on Sunday put the price range per share at between 30 and 32 Saudi riyals (8 to 8.5 dollars), meaning the IPO could generate up to 25.6 billion dollars - a greater sum than Chinese internet giant Alibaba's IPO in 2014.
At the top range, the value of the company as a whole would be about 1.7 trillion dollars.
The final share price will be determined on December 5, the day after subscriptions close.
Subscriptions for individual investors would be open from Sunday until November 28, while those for institutional investors will end on December 4, according to a prospectus issued last week.
Trading in the shares at the Saudi stock exchange Tadawul is expected to begin next month.
The IPO is part of an ambitious Saudi scheme to diversify the country's economy away from oil dependency as prices for the commodity have waned under a global supply glut.
Sunday's IPO take-off comes two months after major attacks on Aramco's facilities that Saudi Arabia and the United States blamed on iran.
The September 14 attacks briefly knocked 5 per cent off the global crude oil supply.