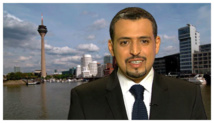 Prince Khaled bin Farhan al-Saud.
Dusseldorf/Riyadh

-
By Benno Schwinghammer,
-
On a dry, dusty day in Cairo in late September, a conspiratorial meeting took place in a hotel in the Egyptian capital.
Saudi embassy staffers walked into the lobby with a check worth "several million," according to Saudi Prince Khaled bin Farhan al-Saud.
In an interview with dpa, Prince Khaled - who lives in Germany in exile and is a critic of the Saudi regime - said the embassy workers met with one of his relatives and made an offer.
"They told my relative that they wanted to help me because I have no more money," he said. "I only needed to go to the Saudi embassy in Cairo to pick up the check. But I knew it was a trap."
A few days later, on October 2, in a Saudi consulate in Istanbul, Saudi journalist Jamal Khashoggi went missing.
Shortly after noon, the critic of the Saudi regime who lives in Washington DC went to the embassy to get documents so that he could marry.
He has been missing ever since, and Turkish investigators believe that the prominent Washington Post columnist was murdered by a Saudi execution squad.
Prince Khaled is certain that the same fate would have befallen him had he allowed himself to be lured into the Saudi embassy in Cairo.
"They would have killed me in some inhuman way in order to scare off others," said the 41-year-old, who says he has been living in exile in Germany since 2004 and in the meantime has German citizenship.
But Saudi Arabia keeps a close watch on its princes. According to information dpa has gathered, the kingdom approached German officials last year in Prince Khaled's case to discuss the possibilities for extraditing him. The German side did not answer the query.
Prince Khaled said that State Protection Office officials in Dusseldorf, where he lives, have been in contact with him for years, and the German Federal Police have also looked into his case.
The disappearance of Khashoggi has thrown the spotlight on how the wealthy oil kingdom deals with its dissidents.
According to observers of the kingdom, ever since Saudi monarch Salman bin Abdulaziz al-Saud came to power in early 2015, repressions have reached new heights.
The king made his son Mohammed the most powerful man in the state. That he will not put up with any resistance is something that clerics, businessmen and women's rights activists have come to feel.
The BBC has documented three cases in which monarchy-critical Saudi princes living abroad have vanished. Prince Sultan bin Turki disappeared when he wanted to visit his father in Cairo from Paris in January, 2016. The Saudi consulate provided a private jet for him, but instead of Cairo it flew to Riyadh.
Two further princes - Turki bin Bandar and Saud bin Saif al-Nasr - have vanished in Europe. In these cases, there were also indications of kidnappings, the BBC said.
Such accounts correspond to information that the Washington Post recently reported in connection with Khashoggi's case.
Intercepted conversations of Saudi officials showed that the Riyadh government wanted to lure him from his exile in the US back to the kingdom and arrest him there.
Prince Khaled believes that he, too, is high on the list of Saudi targets. He says he fell into disfavour in Saudi Arabia when he accused the current King Salman - at the time he was still the emir of Riyadh - of corruption.
The young prince, who in the past had been a Saudi diplomat in Cairo, among other places, had to leave the country.
But even in his German exile he is not safe from Riyadh's long reach. Initially he was followed around, but this has improved in the meantime, even though he still receives many anonymous murder threats.
In addition, he has been contacted more than 50 times by the Saudis over the years. "I met 10 times with the Saudi ambassador in Berlin, but always in a cafe," Khaled bin Farhan said. The diplomat offered several times to fly him back home to discuss matters with the Saudi king - offers he rejected.
"If I had done that, you wouldn't now be talking with me," he said. Now the worries for the dissidents have increased in the wake of the Khashoggi affair. "Of course we're all afraid. The government in Riyadh will stop at nothing."
In the past, the Saudi kingdom has vehemently dismissed allegations of kidnapping - much less killing - its critics. Requests by dpa for a response to Prince Khaled's account have so far gone unanswered.
Khaled bin Farhan al-Saud says he feels safe in Dusseldorf. "I keep saying, thank God I live in Germany." But even in his new home the prince is ever-vigilant. His lawyer is staying in constant touch with the police. Just in case.