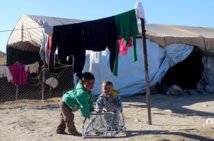 The 13-truck convoy, including 2,400 food parcels, arrived at the Wafedeen crossing north-east of Eastern Ghouta's town of Douma on Friday, the ICRC wrote on Twitter.
The humanitarian situation in Eastern Ghouta, home to hundreds of thousands of people, is dire, according to the United Nations and Red Cross.
The two organizations were able on Monday to bring in small amounts of aid, reporting hunger and shortages of medicines there.
Aid that wasn't offloaded during Monday's operation will be delivered on Friday, the ICRC said.
Calm has prevailed in the enclave since Thursday night, the Syrian Observatory for Human Rights, a war monitor, reported.
There has since been no government air bombardment or shelling on the enclave as fighting abated between Syrian forces and rebels there, the Observatory added.
The drop in violence comes as a gesture of goodwill amid ongoing negotiations between notables from Damascus and the government to reach a deal on Eastern Ghouta, the monitor added.
Syrian President Bashar al-Assad's forces have besieged Eastern Ghouta since 2013.
At least 931 civilians have been killed in the region since February 18 when al-Assad's forces started a major offensive against rebel-held areas there, the Observatory reported.