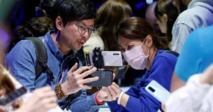 He also said the number of coronavirus cases has risen to 29, from 14 on Friday, including 27 in Lombardy and two in Veneto, in the north-east of the country.
Italy's first coronavirus death was reported overnight in Veneto: a pensioner with other medical conditions who passed away in hospital in the province of Padua.
The man, 78, had tested positive for Covid-19 in initial tests that had yet to be confirmed.
Meanwhile, a military plane repatriating 19 Italians who were quarantined onboard the Diamond Princess cruise ship in Japan for two weeks landed in Rome early on Saturday, the defence ministry said.
The plane made a previous stopover in Berlin to disembark some German citizens. The repatriated Italians are due to be quarantined in a military complex in Rome, while Germany said its returnees would be required to stay at home for a two-week period.
Several hundred passengers on the Diamond Princess have fallen ill and been taken to hospital, where two of them died. Nine hundred and seventy people who tested negative for the novel coronavirus have left the ship since the quarantine was lifted on Wednesday.
Meanwhile, Italian authorities are taking drastic measures in an effort to contain the virus.
In Lombardy, lock down orders were issued for 10 municipalities affected by the outbreak, covering an area with around 50,000 residents.
Schools and most shops and businesses were shut, people were urged to stay at home, and public events, including church services, carnival parties and sports activities, were banned.
Similar measures were being prepared in Veneto.
Notepad