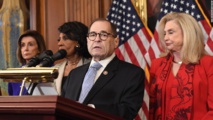 "I submit to you on behalf of the House of Representatives that your duty demands you convict President Trump," Jason Crow, one of the prosecutors, told senators at the start of the session.
Both sides are allocated two hours each, and there will be time for some senators to address the chamber.
The vote on removal is set for Wednesday at 4 pm (2100 GMT) and Trump is widely expected to survive the process, thanks to the loyalty of his Republican Party members in the upper chamber of Congress.
Senators on Friday voted against compelling witness testimony in the trial, including that of Trump's former national security adviser John Bolton, dealing a stinging but expected defeat to the Democrats seeking to remove the president from office.
The narrow 51-to-49 vote saw all but two Republicans vote against compelling testimony and issuing subpoenas for documents into the trial.
Democrats voted as a block to put pressure on the president but failed to get enough support from across the aisle, despite public opinion showing that a majority of people in the country wanted the trial to contain testimonies.
The Democratic-controlled House of Representatives impeached Trump in December on two charges, saying he leveraged aid to Ukraine to pressure Kiev into tarnishing his domestic political rival, former vice president Joe Biden, and then obstructed the investigation.