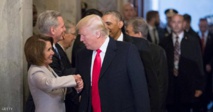 The seven managers appointed by the House of Representatives - effectively the prosecutors - are scheduled to march over to the Senate and read out the two articles of impeachment to the upper chamber at noon (1700 GMT).
Two hours later Chief Justice John Roberts is due to arrive from the Supreme Court to begin swearing in the 100 senators for the trial.
The House managers are all Democrats with legal backgrounds, chosen by the party leadership on Wednesday, and led by lawmaker Adam Schiff.
The prosecutors face an uphill battle in the Republican-controlled Senate, and it is unlikely the required two-thirds of its members will vote to remove Trump from office.
It still remains unclear if Trump's Republican Party will give in to demands from the Democrats to call witnesses and procure more documentation, even as more evidence continues to emerge showing that the president was involved in a dubious pressure campaign on Ukraine.
Democrats say the president pressured Ukraine to announce an investigation into Joe Biden - a leading candidate to run against Trump in elections this year - including by withholding critical military aid and a White House meeting.
During the trial, the Senate is expected to meet every day except Sundays.
Republicans are hoping to wrap up the trial before February 4, when Trump is due to deliver the annual State of the Union address to both houses of Congress.