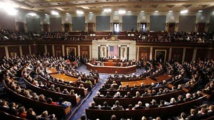 The House Ethics Committee said Tuesday it had begun an investigation into Democrat John Conyers after BuzzFeed News reported that an unnamed female congressional staffer had settled a wrongful dismissal complaint in 2015 after allegedly being fired for rejecting his sexual advances.
"The Committee is aware of public allegations that Representative John Conyers, Jr may have engaged in sexual harassment of members of his staff, discriminated against certain staff on the basis of age, and used official resources for impermissible personal purposes," the committee said in a statement, noting that probe does not indicate a violation has occurred or a potential judgement.
Speaker of the House Paul Ryan had earlier called the claims "extremely troubling."
"People who work in the House deserve and are entitled to a workplace without harassment or discrimination," said Ryan, a Republican.
BuzzFeed News reported, based on signed affidavits, that Conyers, the longest-serving member of the House of Representatives and the top Democrat on the Judiciary Committee, had allegedly made repeated sexual advances towards female employees.
The documents allege Conyers had touched multiple women in a sexual manner without their consent, had other staffers bring in women with whom he was having affairs and requested sexual favours from the woman, whose case was settled using Congress' internal, private dispute mechanism.
Conyers confirmed in a statement that there had been a settlement, but denied any wrongdoing.
Conyers said that he supported the rights of employees to make claims against their employers, but said an allegation does not necessarily equate with actual wrongdoing.
"In this case, I expressly and vehemently denied the allegations made against me, and continue to do so," he said. "My office resolved the allegations – with an express denial of liability – in order to save all involved from the rigours of protracted litigation."
Congresswoman Jackie Speier has introduced legislation to change the way Congress addresses sexual harassment claims in a bid to increase transparency after a hearing last week exposed problems faced by female staff members and lawmakers.
Democratic Senator Al Franken also faces an ethics investigation after allegations of groping by two women.
Meanwhile, Roy Moore, a Republican candidate for senator from Alabama, faces claims of sexual assault and misconduct by women who were teenagers at the time. President Donald Trump, who has also been accused of sexual assault, on Tuesday backed Moore, saying he had denied the charges.