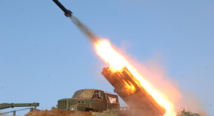 "South Korea and China reaffirmed their firm position for a nuclear free Korean Peninsula and peaceful resolution of the North Korean nuclear issue," the ministry said in a statement, according to the Yonhap news agency.
In a Beijing meeting, the two nations' top nuclear envoys - South Korea's Lee Do Hoon and China's Kong Xuanyou - had also agreed to "continue close discussion to come up with ways to resume talks" with Pyongyang, Seoul said.
A day earlier, China and South Korea had said they were working to mend ties strained by the installation of US Terminal High Altitude Area Defence (THAAD) batteries in South Korea.
China had objected to the US system's deployment so close to its border, and argued that it would exacerbate tensions on the Korean Peninsula.
South Korean President Moon Jae In is now due to meet Chinese President Xi Jinping on the sidelines of next month's Asia-Pacific Economic Cooperation (APEC) forum in Vietnam.
Tensions on the peninsula have ratcheted up in recent months after a series of nuclear and missile tests by Pyongyang which sparked a war of words between US President Donald Trump and North Korean leader Kim Jong Un.
Trump, who is due to visit South Korea as part of an Asia trip next week, has dismissed US Secretary of State's Rex Tillerson's attempts at dialogue with North Korea, by telling him he was "wasting his time."
Notepad