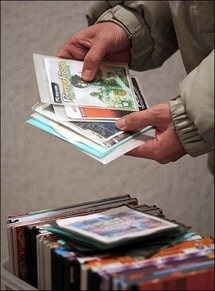 "But I can see them, sometimes even customers warn me, so I just pack my case and become a regular businessman," said Marko, who operates a temporary stall underneath the downtown avenue of Terazije.
At times, "even they (the police) buy films from me," he said.
But with a pro-Western government that aspires to lead Serbia to European Union membership within five years, authorities have launched a campaign to stamp out the problem.
In 2008 alone, more than 30 trials were started against suspects involved in the distribution of illegal material, while tougher laws have been imposed setting jail terms at up to five years.
Hundreds of thousands of illegally produced and sold CDs or DVDs seized in police raids have been destroyed in recent months, with officers targeting several "mini-factories" in Belgrade suburbs.
Illegal trade in pirated films is so bad that low cinema attendance have forced Hollywood's representatives in the Balkan country to withhold distribution of movies already available on the streets for months.
One of them, Taramount Film, decided last month against the planned distribution of Barry Levinson's "What Just Happened?" starring Robert De Niro and Bruce Willis to cinemas for Christmas.
"We regret this decision, but the movie has already appeared on the Internet," said Danijela Jancic of Taramount, which since 2004 has represented Hollywood majors like Universal, Paramount and DreamWorks.
"Bearing in mind the widespread piracy already on the streets of Serbia, there is no point in distributing it," she told AFP.
Microsoft Serbia's Milomir Ognjanovic estimates that for the film industry alone, annual losses reached up to 11.5 million euros (15.6 million dollars) in the former Yugoslav republic.
"Film industry surveys showed Serbia would make up to 50 million euros per year only from DVD sales if piracy was eliminated," Ognjanovic said in an interview with the daily Biznis.
Besides the film industry, the piracy problem has also caused headaches for those in Serbia's software and computer gaming business.
"Due to the high presence of software piracy, Serbia has lost 72 million euros only last year, but also several thousand jobs," said Ognjanovic.
The leading association fighting computer piracy which groups giants like Microsoft, Adobe and AutoDesk, Business Software Alliance (BSA), estimated that "illegal software makes 78 percent of all present at Serbia's market" in 2007.
"This year, we expect it to decrease to below 70 percent," said Dragomir Kojic of the BSA.
Although Serbia has introduced a series of legal measures to fight IT piracy, high software prices of up to 800 euros still make it inaccessible to many in the country where the average monthly salary is about 400 euros.
"Rooting out piracy will be largely helped with stronger measures of the Revenue Office and special police department fighting hi-tech crime," Kojic said at a conference on copyright and intellectutal property protection.
But that is of little comfort for Boban Janosevic, the owner of a small DVD rental shop in Belgrade who says the fake material confiscated so far represents just a "drop in the ocean of piracy".
"I have run this shop for 15 years now. Everything is legal here, but never have had I such a small turnover as this year," Janosevic said, adding only three customers rented DVD movies last week.
"And why would they pay me?
"If they have a good Internet connection, they can download the movie at home, and if they can't be bothered by that, they can buy an illegal copy on the street for only 100 dinars (1.25 euros)," he explained.
But the tougher laws and dozens of police raids could hardly stamp out piracy in the country, said Damir Kostresic, a local software producer.
"I am also harmed by piracy: my knowledge and experience go down the drain when someone copies the programme I have worked on for six months," Kostresic said in his office, surrounded by computers.
"But I cannot really blame kids downloading the game from the Internet. They have no idea what copyright is and means," Kostresic said, calling on the state to educate youths to make them familiar with these topics.
When he scolded his teenage cousin for buying the latest gaming hit "World of Warcraft" from a street-seller, "the boy just brushed me off, saying that he could never afford it otherwise."
"For the money I would have paid for a licenced game, I could have bought 15 others on the black market," Kostresic quoted his cousin as saying.
----------------------------
Image of a street vendor displaying the newest illegally produced video games and movies in downtown Belgrade, by Aleksandar Stankovic.