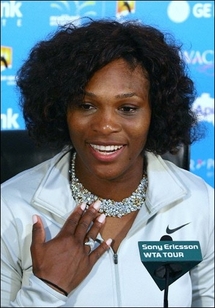 The nine times grand slam champion made friends with a Sydney diamond designer in a visit to his boutique store over the weekend and was loaned the necklace to wear on the court.
But the thought of being entrusted with the multi-million dollar jewellery made the 27-year-old Williams nervous and she decided to only wear it at her post-match press conference away from the gaze of the fans.
"I told the jeweller that I would wear it at the press conference because I didn't have the cash to be losing a three and a half million dollar necklace," Williams said with a laugh.
"I'm just not comfortable with it and if it fell off I just would have go for it..... I wouldn't care about the ball."
The flamboyant American has worn diamonds on court before, causing some controversy at the 2004 US Open when one of her 40,000 US dollar earrings fell off during a match.
----------------------------------
Image of Serena Williams by Bill Hearne.