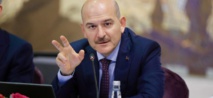 Suleyman Soylu
Suleyman Soylu said on Twitter that the two pilots were among the dead after the plane crashed on a mountain, some 150 kilometres from the border with Iran.
Investigations are under way to determine the cause of the crash, state news agency Anadolu reported.
The plane took off from an airport in Van late on Wednesday and lost radar and communication contact after four hours, the report added.