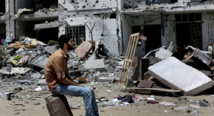 The incident marks a rare clash along the Israel-Gaza border since a 2014 war between Israel and the Islamist militant group Hamas, which controls the coastal enclave.
Hamas' armed wing, al-Qassam Brigades, said in a statement that one of its militants was among the dead. The other two killed are affiliated with Islamic Jihad, a smaller militant organization in Gaza, the statement said.
Earlier on Monday, Israeli army spokesman Lieutenant Colonel Jonathan Conricus said the army had destroyed a "terror tunnel" on the Israeli side of the border.
Conricus added that Israel holds Hamas responsible for "violating Israeli sovereignty."
"Whoever attempts to hurt us, we will hurt them," Israeli Prime Minister Benjamin Netanyahu said on Monday.
During the 2014 Gaza War, Hamas used a network of tunnels to store weapons, hide from Israeli bombardment and attempt attacks on Israel.
"Our response to this crime will be taken in the right moment," Islamic Jihad spokesman Dawood Shihab told reporters.
Meanwhile, Hamas said in a Tweet that the attack constitutes "a new war against Gaza people."
Notepad