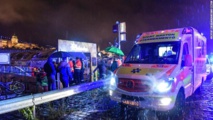 The 33 passengers on board were South Koreans. Fifteen people survived uninjured or with only minor injuries. One person was successfully resuscitated.
South Korea's Foreign Ministry said Thursday it was sending an 18-member rapid response team to Budapest to assist with the rescue operation.
President Moon Jae In also ordered a government response team be formed and directed "all available resources" to help in the rescue operation.
A huge search operation for survivors was in progress with powerful lights being used to search the river, according to news website Index.hu.
However, heavy rains and strong currents were impeding the search. The water temperature was 15 degrees Celsius.
The reason for the collision with the other vessel, which was bigger than the tourist boat, was not immediately clear.
The 27-metre sightseeing boat, able to carry 60 passengers, belonged to the Budapest company Panorama Deck. "All resources are being mobilized to save people's lives," a company spokesman said.
The Danube flows through the centre of the Hungarian capital, separating the two halves Buda and Pest.
Boat trips along it are very popular with tourists as they offer great views of attractions including Buda Castle and the parliament building.