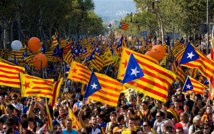 June 28, 2010: The Constitutional Court strikes down several articles of a statute extending Catalonia's autonomy.
September 11, 2012: The first pro-independence demonstration is held in Barcelona, attracting more than 1 million people, on the national day of Catalonia. The protest becomes an annual event.
November 9, 2014: A first independence referendum is held informally, after the Constitutional Court bans it. Out of 5.4 million eligible voters, more than 2 million turn up, and 80 per cent back secession.
September 27, 2015: A pro-independence coalition, Junts Pel Si (United for Yes), wins regional elections and forms a government with the support of the anti-capitalist, secessionist CUP party.
September 6, 2017: The Catalan parliament agrees to hold an independence referendum in a vote boycotted by the opposition. The Constitutional Court invalidates the ballot on the next day.
September 20: Spanish police seize almost 10 million ballot papers and arrest 14 pro-independence politicians and officials, in an attempt to disrupt referendum plans. Street protests ensue.
October 1: The referendum takes place despite raids by Spanish riot police on polling stations. Five people are hospitalized and more than 800 people report injuries after clashes with officers.
The result is a 90-per-cent vote for independence, with a 43-per-cent turnout, Catalan authorities say. But there is no proper monitoring and voting irregularities are suspected.
October 3: A pro-independence general strike paralyses Catalonia and attracts 700,000 people in Barcelona. Five days later, 350,000 people march in the Catalan capital against secession.
October 10: Catalan President Carles Puigdemont says his region has the right to declare independence, but will hold off enacting it in order to seek negotiations with Madrid.
October 16: Puigdemont dodges a first government ultimatum to retract secessionist plans.
October 19: After Puigdemont fails to comply with a second ultimatum, the Spanish government says it wants to activate article 155 of the constitution, under which it can suspend Catalonia's home-rule powers.
October 27: In a day of high political drama, the Catalan parliament approves a resolution to start the process of independence. Given extra powers earlier by the Senate under article 155, Madrid then sacks the Catalan cabinet, dissolves the parliament in Barcelona and calls fresh regional elections.