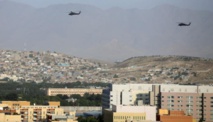 كابول الحي الدبلوماسي
The rockets were fired from two cars and some of them landed in the Green Zone, a diplomatic area near the presidential palace and the United States embassy in the Afghan capital.
One of the rockets landed near the guard of honour unit in the palace, a source at the palace confirmed to dpa.
Two suspects have been arrested in connection to the incident, the ministry added.
There was no immediate claim of responsibility for the attack.
The rockets were fired shortly after Afghan President Ashraf Ghani laid a wreath at the Minaret of Independence at the Ministry of Defence.
Afghanistan marked the 101st anniversary of its independence from British rule on Tuesday.