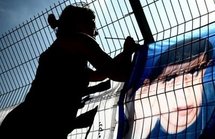 "There will be a high price to pay, but I think the government will approve it," he said. "This deal will prove to all the mothers of Israel that we are not ready to abandon a single soldier."
Hamas sought to play down reports of an imminent deal, which it said were the result of "blatant Israeli leaks with the goal of influencing the emotions of our prisoners and their families."
The Islamist group ruling Gaza held talks on Tuesday with officials in Egypt, which had tried for months to broker an exchange before a German mediator joined the talks earlier this year.
The delegation led by senior Hamas leader Mahmud Zahar then travelled to Syria where it was to confer with the group's exiled leadership before returning to Cairo, Egypt's state-run MENA news agency reported.
Israeli Prime Minister Benjamin Netanyahu has said that there is no deal yet over a swap involving Gilad Shalit, a soldier held in Gaza for more than three years, in exchange for hundreds of Palestinian prisoners.
On Tuesday, Netanyahu repeated that any deal would require "public debate" and approval by the cabinet.
"There is no deal, and I don't know if there will be one, but if there will be one, the government will approve it," he said.
"There is no point in deciding as long as we don't have agreement."
Rumours have swirled in recent days in Israel, Gaza and Egypt that a deal is imminent in the German-mediated talks, as both Israel and Hamas have imposed strict internal censorship on any discussion of the details.
Visiting German Foreign Minister Guido Westerwelle declined to comment on the negotiations, in which his country got involved several months ago.
"We all hope there will be a good conclusion," he said after talks with his Israeli counterpart, Avigdor Lieberman.
Germany has a history of successful mediation in prisoner exchanges involving Israel, notably in 2004, when Israel released 431 prisoners, most of them Palestinians and Lebanese, in return for a businessman and the bodies of three Israeli soldiers.
French Foreign Minister Bernard Kouchner meanwhile told reporters in Paris that there had been positive developments in the talks but warned that "we have been burned many times before."
Kouchner said Israel had provided Hamas with a list of nearly 500 Palestinian prisoners who could be released in exchange for Shalit.
"I think that this list has been corrected by Hamas," he added. "Since then, things are progressing in a positive way. We have no details on the date of the release or the exact contents of the list."
Shalit, who holds both Israeli and French nationality, was seized in June 2006 when Gaza militant groups, including Hamas, tunnelled out of the enclave and attacked an Israeli army post, killing two other soldiers.
-------------------------------------------------------------------------------------------------------------------------------
Image: AFP/File/David Buimovitch.