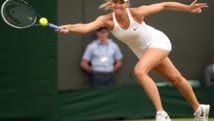 Stuttgar -
Russian icon Maria Sharapova insisted Tuesday after another first-round exit that she can still do great things on the world's tennis courts ... such as win grand slams.
If she wouldn't believe in this, the 31-year-old said after losing 3-6, 7-6 (8-6), 6-4 to French player Caroline Garcia at the Porsche Grand Prix on Tuesday, she would quit the sport.
"Yes of course, I want to be holding the big ones, I've been there, I know what that is like and from a competitive angle, yes that's what I dream of again," she said.
Sharapova is a former world number one and has achieved a career grand slam between a 2004 Wimbledon title as a 17-year-old and the first of two French Opens in 2012.
But her last major came 2014 in Paris and the last big other title in Rome 2015.
And while she came back strong from shoulder surgery a decade ago, the return from a doping ban in April 2017 has not been as smooth.
Sharapova was back at last year's Stuttgart event, which she had won three times in the past, and made it into the semi-finals. But she has only managed one title, at the smaller event in Tianjin, China, in October, and lasted only three rounds at the Australian Open in January.
She has not won a match since then. Before Stuttgart, she went out in the first round in Doha and Indian Wells.
Injury problems have also not helped. Sharapova admitted she shouldn't have played in Indian Wells and that "I have to be a little bit smarter about looking into the future."
She has brought back a coach from the past, Thomas Hogstedt, who also trained her 2010-2013, as she hopes for a turnaround in a cooperation which currently is on a week-by-week basis.
"I'm looking forward to good things with him," Sharapova said.
The Russian also refused to be too downbeat after Tuesday's exit, saying "I can certainly take a lot out of this match," although "it's not the result that I wanted.
"I made a few unforced errors and a few doubles at the wrong time. But, overall, I thought that was an improvement from some of my previous events that I competed at. And, physically, I felt quite strong," she said.
Sharapova will take this as motivation ahead of the French Open and Wimbledon, which she missed last year, because it would be "silly" to aim for something less than the big trophies.
"When you've been in that position and you've been able to produce that type of tennis there is definitely memories of that and that's what you work towards," Sharapova said.