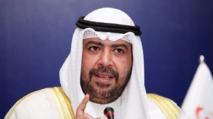 It follows Sheikh Ahmad's decision last week to step down temporarily from his roles as an International Olympic Committee (IOC) member and chairman of the Olympic solidarity commission.
The IOC said Monday it had taken note of Sheikh Ahmad's decision to "temporarily suspend himself from his role and responsibilities" within ANOC.
The decision will take effect from Wednesday, Sheikh Ahmad said in a letter to the IOC's chief ethics and compliance officer Paquerette Girard Zapelli.
Sheikh Ahmad was standing unopposed for re-election as ANOC president at its general assembly in Tokyo from Wednesday.
In his letter, Sheikh Ahmad referred to "the on-going proceedings in Switzerland initiated by the public prosecutor of Geneva several years ago."
The IOC executive board held a telephone conference on Monday to discuss the issue.
The board "recognizes that Sheikh Ahmad Al-Fahad Al-Sabah has taken the correct course of action with regard to the Olympic Movement," a statement said.
Swiss paper Le Temps reported last week that Sheikh Ahmad and four other people have been charged at a Geneva court with fabricating videos in a plot against two government officials in Kuwait.
Sheikh Ahmad's office said in a statement last week he "strenuously denies any wrongdoing" and said allegations were "maliciously motivated by political factions within Kuwait.