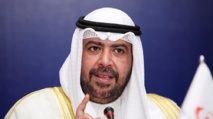 A statement from Sheikh Ahmad's office said he has "decided to step down temporarily from his roles and responsibilities as an IOC member and chairman of Olympic solidarity commission."
Sheikh Ahmad has been an IOC member for 26 years and close to IOC president Thomas Bach. He president of the Association of National Olympic Committees (ANOC) where he stands unopposed for re-election next week, and heads the Olympic Council of Asia.
The statement said he stepped down "to distract attention away from the excellent work carried out by his colleagues in the Olympic Movement" and that "he fully intends to continue serving the IOC again at the earliest opportunity."
The insidethegames portal said Sheikh Ahmad allegedly claimed the two - former prime minister Sheikh Nasser Mohammad al-Ahmad al-Sabah and former parliament speaker Jassem al-Khorafi - had misused public funds and plotted to topple the government, based on documents and recordings.
A Swiss Court confirmed in 2014 that the recordings were genuine, a Kuwait court first ruled they were forged but the nation's Supreme Court later cleared him.
According to Le Temps, prosecutors now say the 2014 case in Switzerland was completely fabricated in order to make the recordings credible in Kuwait.
Monday's statement said Sheikh Ahmad "strenuously denies any wrongdoing in the legal case which has brought against him in Switzerland," naming the allegations "maliciously motivated by political factions within Kuwait.
"Sheikh Ahmad has every confidence and trust in the Swiss court's and the IOC ethics commission's impartial due process and that he will be completely exonerated," the statement said.
Last year Sheikh Ahmad resigned from the council of the ruling football body FIFA after being named in a United States probe against Guam football supremo Richard Lai, who pleaded guilty to receiving 1 million dollars in bribes.
He has also protested his innocence in this case which is also under review by the IOC ethics committee.