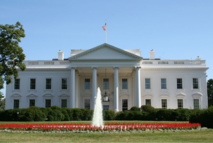 The Congressional Budget Office (CBO) estimates that the shutdown negatively affected economic growth in the first quarter of 2019 by about 0.2 per cent, or 8 billion dollars.
The shutdown also affected quarterly real gross domestic product (GDP) in the fourth quarter of 2018. That quarter's growth will be reduced by 3 billion dollars, or 0.1 per cent, the agency estimates.
Most of the real GDP lost during the two quarters will eventually be recovered, the report forecasts.
The amount that won't be recovered - an estimated 3 billion dollars - equals 0.02 per cent of projected annual GDP in 2019, the CBO added.
The CBO is an independent agency that produces analyses of budgetary and economic issues for Congress.
The government entered into a partial shutdown in December over a stand-off between US President Donald Trump and his opponents in the Democratic Party, who refused to pass legislation giving the president 5.7 billion dollars to construct sections of a wall on the border with Mexico.
It ended Friday with Trump agreeing to legislation to fund the government until February 15 - despite not securing any real gains.
He has said that he would be willing to let the government shut down again over the border issue if negotiations between now and February 15 don't result in a solution satisfying his demands.