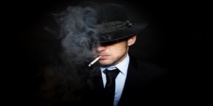 Settimo Mineo, 80, was described in a press conference by Palermo Chief Prosecutor Francesco Lo Voi as a Cosa Nostra elder with a long criminal record, but the mobster's name was not previously known to the wider public.
Mineo, who officially worked as a jeweller, was apprehended after prosecutors discovered that on May 29 he chaired the first meeting of the Palermo Commission in 25 years, in what authorities said was a fresh attempt by Cosa Nostra to regain its strength.
Oxford University Criminology Professor Federico Varese told dpa that Mineo is best seen as a Cosa Nostra "chairman," acting within the Commission as a power-broker between affiliated crime families, rather than as the organization's "supreme boss."
The Sicilian Mafia's most famous active boss is Matteo Messina Denaro, who is not from Palermo and was not targeted by the arrests. A fugitive since 1993, it is unclear if Messina Denaro holds sway over all of Cosa Nostra, which remains based in Palermo.
The Commission, also known as the "Cupola," had not met since the January 1993 arrest of notorious Mafia super-boss Salvatore "Toto" Riina, who was caught by police on his way to a meeting of the executive body.
Tuesday marked the third time Italian authorities managed to thwart Cosa Nostra attempts to reconstitute the Cupola, John Dickie, a Mafia expert and professor of Italian studies at University College London, noted.
"Italian police forces are doing an amazing job," he told dpa.
Lo Voi said the Commission met to "re-establish some rules that had been lost along the way," while his deputy, Prosecutor Salvatore De Luca, said it had deliberated the murder of a petty thief who was disturbing a Mafia-controlled neighbourhood.
"We managed to save the life of a 21-year-old guy," De Luca said.
Once the dominant Italian Mafia organization, Cosa Nostra has been in decline since the mid 1990s, as the Italian state reacted to a Mafia killing campaign of senior judges and politicians with a string of high-profile arrests.
Riina's successor as Cosa Nostra's top dog, Bernardo Provenzano, was caught in 2006. Both men died in prison over the past two years, and following their passing, many observers were expecting Mafia reorganization attempts.
"Cosa Nostra is in trouble because it is under very intense pressure" from police and prosecutors, De Luca said. "But despite this, it has shown to be very resilient" and if the state relents for a short period "it could return to its former strength," he added.
The 'Ndrangheta from Calabria, the region that forms the tip of Italy's boot, is thought to have replaced Cosa Nostra as Italy's strongest crime group. The Calabrian mob has made substantial inroads in Germany and is considered the leading smuggler of cocaine in Europe.