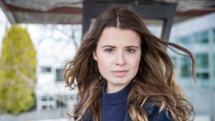 "She could have helped to shape solutions to the climate problems addressed by the Fridays for Future movement and also gained insights into complex company inner-workings," Kaeser said Sunday, adding he respects her decision.
The dialogue between the chief executive and activist was kicked off by protests led by Neubauer demanding that the conglomerate end its participation in a controversial mining project in Australia, where raging bush fires have been met with calls to tackle climate change.
The protests have centred on plans by Indian industrial group Adani to build one of the world's largest coal mines in central Queensland, with Siemens contracted to provide a rail signalling system for the project.
On Friday, Kaiser offered Neubauer a seat on the supervisory board at Siemens Energy, a new conventional and renewable energy company.
"We stand at the side of Miss Neubauer and all people who see climate change as a threat," Kaeser said Sunday.
"And we have the same goal regarding this issue: fighting climate change. My door remains open."
Siemens plans to announce on Monday whether it will continue with its offer to build the signalling system.
Notepad