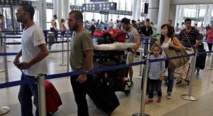 Citing an internal European Commission report, Sunday's edition of Die Welt newspaper reported that 38,687 irregular migrant arrivals to the EU from Turkey were registered between January and mid-September of 2018, marking an increase of 43 per cent over the same period last year.

Out of the total number, 36,423 people had fled from Turkey to Greece, of which 12,147 had travelled by land. Other countries of arrival for migrants departing from Turkey were Italy (1,965), Bulgaria (239) and Cyprus (71).
Just under half of those who crossed into the EU by land have Turkish nationality, the report found.
In 2016, the EU came to an agreement with Turkey to help limit the flow of irregular migrants into Europe. The Turkish government was expected to implement tight border controls and take back migrants who entered the EU via Turkey.
In return, Ankara received 3 billion euros (3.5 billion dollars) from the EU to help manage and support refugees in Turkey.

As a result of the high numbers of migrants arriving from Turkey, refugee reception centres on the Greek islands in the Aegean Sea are "overcrowded," according to the European Commission.
The report found that, by mid-September, 20,258 migrants lived in island reception centres, which have an official maximum capacity of about 9,500.
There is also a shortage of doctors, translators and equipment such as tents, which will become essential as cold weather approaches.