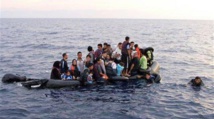 Rescuers pulled 57 people alive from the sea off the island Lesbos from the boat that set sail from the Turkish coast near Ayvalik.
Around 9,700 migrants have taken the dangerous trip from Turkey to the Greek islands so far this year, according to the UN refugee agency UNHCR.
The trip is often dangerous - last year at least 174 people drowned - but it is one of the few paths refugees and migrants can take to reach Europe.
Over 10 months in 2015-16, the high point of the refugee crisis, more than 1 million people passed through the Balkan route. Then countries along the way shuttled them across their territory towards Western Europe. But the borders have now officially been closed to irregular migrants for more than three years.
Under an agreement between the European Union and Turkey, all those arriving in Greece since remain in the so-called hotspot on Greek islands and are either allowed through as refugees or returned.