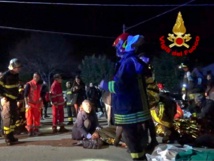 The mass panic may have been triggered by irritating spray that was dispersed inside the Lanterna Azzurra (Blue Lantern) nightclub in Corinaldo, near the city of Ancona, on the Adriatic coast, the fire department said.
Two boys and three girls were among those killed, the Ansa news agency reported, citing police. A mother who accompanied her child to the concert was also said to have died.
Dozens of people were injured, about 10 of them seriously, local media reported. Many of them suffered severe bruising while others had broken bones.
The fire department posted images on social media that showed ambulances, fire engines and police at the scene.
Around 1,000 people were reported to have been inside the nightclub for a performance by rapper Sfera Ebbasta at the time of the incident.
Corriere Della Sera quoted an injured 16-year-old as saying that one of the emergency exits was blocked, adding to the alarm of the concertgoers.
Italian Interior Minister Matteo Salvini vowed to "find those responsible for the six wrecked lives, those who, out of malice, stupidity or greed, turned a party night into a tragedy."
"At 15, you should not be allowed to die like that," he said at a press conference.
Notepad