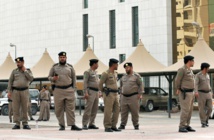 A spokesman for the State Security Presidency said operation on Monday took place after security agencies revealed "arrangements to carry out a criminal act very soon," SPA reported.
"Security forces raided a house where a group of seven wanted people were hiding," the spokesman said.
"They refused to respond to calls to surrender and started shooting at the forces," he added.
"The troops dealt with the situation, killing six of them."
One of the seven was wounded and arrested, he said, adding that five policemen were injured in the operation.
Seven machine guns, three bombs and large number of bullets were seized in the raid, he added.
The province of Qatif was previously a haven for militants. However, violence has become rare since security forces largely flushed out combatants in a 2017 campaign that damaged much of the town's old quarter.
Qatif is home to a large Shiite population who are at odds with the Sunni-dominated government.