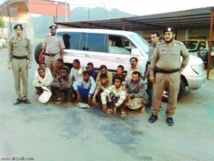 IOM staff found the shallow graves of 29 people on a beach in Shabwa province during a routine patrol and provided medical care to 27 surviving migrants who had stayed on the beach, according to the UN-affiliated organization.
Survivors told IOM staff the smuggler in charge of the boat carrying more than 120 people pushed them into the sea when he saw some "authority types" near the coast, the chief of the IOM's Yemen mission Laurent de Boeck said.
"They also told us that the smuggler has already returned to Somalia to continue his business and pick up more migrants to bring to Yemen on the same route. This is shocking and inhumane," de Boeck said.
The dead had been buried quickly by the survivors and the International Committee of the Red Cross were working with the IOM to appropriately care for the remains of the deceased, the IOM said.
Survivors told the organization around 42 more passengers had survived but already left the beach, and another 22 were missing.
Staff estimated the average age of passengers on the boat to be 16.
The migrants on board were from Somalia and Ethiopia and heading to countries in the Gulf via war-torn Yemen.
Around 55,000 migrants have left the Horn of Africa for Yemen since January 2017, more than 30,000 of whom were under the age of 18, according to estimates from the IOM.
The journey through the Red Sea and the Gulf of Aden is particularly dangerous during the current windy season in the Indian Ocean.