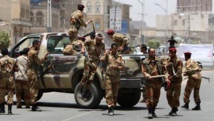 "Unknown gunmen riding a car shot at Brigadier Fahd Gharama after he left his house. He died on the spot while the gunmen fled," the source told dpa on condition of anonymity.
Gharama was the deputy chief of the so-called Security Belt Forces in the southern province of Abyan. The Security Belt Forces are units trained and supported by the United Arab Emirates, which is a major partner in a Saudi-led alliance fighting rebels in Yemen.
Sunday's attack took place near a school, injuring six students and one teacher, the source said.
There was no immediate claim of responsibility and no official confirmation.
In recent months, Adan, the temporary seat of the Saudi-backed government, has seen a series of attacks targeting officials, security personnel and clerics.
One of the Arab world's poorest countries, Yemen has been embroiled in a disastrous power struggle between the government and the Iran-linked rebel Houthis since late 2014.
The conflict has intensified since 2015, when Saudi Arabia and other Sunni allies started an air campaign in Yemen to halt the Shiite Houthi group's advance towards Aden.