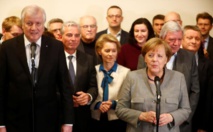 After about 24 hours of talks, Merkel's Christian Democratic Union (CDU), her Bavarian-based allies in the Christian Social Union (CSU) and the Social Democratic Party (SPD) agreed on a formal road to forming a so-called grand coalition government.
The deal ends months of uncertainty about the shape of Germany's next government following September's inconclusive elections and as a result heads off the threat of fresh elections.
A new coalition government would see Merkel at the helm of Europe's biggest economy for a fourth term in office.
However, an SPD party conference set down for January 21 still has to approve holding the talks for a rerun of the Merkel-led coalition that has ruled the nation for eight of the chancellor's 12 years in power.
Party officials also expect it take until April to negotiate a new coalition agreement.