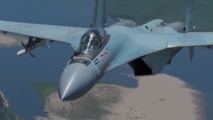 The plane had entered South Korean airspace near the islets of Dokdo off the country's eastern coast.
The islets are also claimed by Japan, which calls them Takeshima.
The air force scrambled fighter jets, which fired the warning shots.
It was the first time the country's airspace has been violated by a Russian military plane.
According to South Korean media reports, the plane was a Russian bomber that flew over the area twice earlier in the day.
The office of South Korean President Moon Jae In lodged a formal complain with Russia over the incident, news agency Yonhap reported.
Two Chinese military planes also entered South Korea's air defence identification zone (KADIZ) earlier, according to local media.
There was no immediate comment from Russia or China.