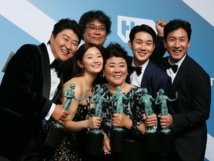 "I'm speechless," said producer Kwak Sin Ae. "I feel like a very opportune moment in history is happening right now."
The best picture choice is a remarkable one for the Academy, which has faced mounting criticism for a lack of racial and gender diversity in its voter ranks and among the Oscar nominees.
This year's Academy Awards featured a hotly-contested but largely white and male-dominated field of nominees for top prizes.
At the start of the ceremony comedian Chris Rock joked that the Academy "[hid] all the black nominees."
Joaquin Phoenix won the Oscar for Best Actor in a Leading Role for his performance as a clown who descends into spiral of violence and mental illness in "Joker."
Renee Zellweger claimed the top actress award her performance as famed American singer Judy Garland in the biographical film "Judy."
"Our heroes unite us," Zellweger said in reference to Garland. "When we celebrate our heroes we are reminded of who we are - as one people united."
Brad Pitt also picked up his first acting Oscar for his supporting performance in "Once Upon a Time in Hollywood," playing a stunt double double living in 1969 Los Angeles.
"Parasite" beat out eight other nominees, including Sam Mendes' "1917," which was a favourite for the best picture award, and the three-hour mafia epic "The Irishman," directed by Martin Scorsese.
The most-nominated film was the blockbuster "Joker," which tells the origin story of its namesake comic book villain. The film had 11 nominations, including for best picture, but walked away with just two wins for best leading actor and best original score.
While the Academy has taken steps to increase the number of women and people of colour in its ranks, many felt this year's awards snubbed Jennifer Lopez for her role in "Hustlers" and actor Awkwafina, whose performance in "The Farewell" was widely praised.
The best director nominees were all men, continuing a tradition that has only been broken five times in the history of the Oscars.
The Academy Awards are a "popularity contest amongst older white men," said April Reign, creator of the influential social media campaign #OscarsSoWhite, in an interview on the 1A radio show.
The 92nd Oscars were also host-less for the second year in a row.
In place of a host, over 30 Hollywood luminaries including Spike Lee, Salma Hayek and Will Ferrell took the stage to present the awards.