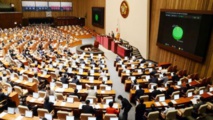 The speaker's remarks were "vastly inappropriate and I am even reluctant to make comment," government spokesman Yoshihide Suga told a news conference.
Moon told South Korean newspaper Hankyoreh that an apology from the 85-year-old emperor or Prime Minister Shinzo Abe to former sex slaves, many of whom were Korean women, could resolve the issue, news agency Kyodo reported.
Moon also said the reason Germany has become a European leader was because it had apologized for all aspects of its wartime past, according to Kyodo.
In February Moon said the emperor should apologize for Japanese wartime brothels and called him "the son of the main culprit of war crimes," apparently referring to his late father Emperor Hirohito, in whose name Japan fought World War II.
Up to 200,000 women and girls were coerced into serving the Imperial Japanese Army as so-called "comfort women" before and during the war, historians say.
The Korean Peninsula was under Japanese colonial rule from 1910 to 1945.
Emperor Akihito is set to relinquish the Chrysanthemum Throne on April 30, in the first such abdication in about 200 years. His elder son, Crown Prince Naruhito, 59, will succeed the throne on May 1.