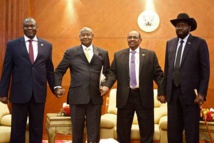 President Salva Kiir, rebel leader Riek Machar and an alliance of opposition leaders met in neighbouring Sudan where they came to a power-sharing agreement, Sudan's Foreign Minister Al-Dirdiri Mohamed told dpa.
"The agreement on outstanding issues has been signed and this agreement expresses the commitment of all parties to a ceasefire," Mohamed said.
The deal will see the creation of a transitional government, with Machar reinstated as vice president, Kiir said in a televised statement.
Four other less senior vice presidents will also be appointed. The new government will be made up of 550 lawmakers and 35 ministers.
"I believe that this agreement will be implemented with the spirit of togetherness," Kiir said on South Sudan television. "Whoever signed this agreement will remain committed to it so that we rescue the suffering of our peoples."
Issues around the economy and human rights will be discussed at a later meeting, which will be hosted in Kenya.
Previous agreements have collapsed after warring parties failed to respect the ceasefire. In last month's agreement, rebels refused to allow Machar's reinstatement as vice president.
South Sudan descended into civil war in 2013 after President Salva Kiir accused Machar, then his vice president, of plotting a coup.
Years of civil war have since left tens of thousands of people dead, and about 4 million South Sudanese have fled the fighting.