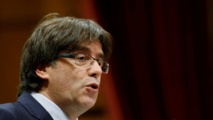 Pablo Llarena, the investigating judge of Spain's Supreme Court, said Thursday that the court had withdrawn the European Arrest Warrant for Puigdemont, who fled Spain after playing a key role in the unilateral declaration of independence by Catalonia's separatist-led parliament.
Spain had demanded Puigdemont's extradition from Germany, where he was arrested on the warrant. A German court recently decided that Puigdemont could be extradited to Spain to face charges of misuse of public funds, but it rejected the more serious charge of rebellion brought forth by Spanish prosecutors.
In his ruling, Llarena, said the regional court in the German state of Schleswig-Holstein had failed consider "deeds that could have broken the Spanish constitutional order."
According to Llarena, the German court had "advanced a trial that is inconsistent with ... the accusation, and does so from an erroneous position."
The German court's decision could also serve to "short-circuit the effectiveness" of instruments such as European Arrest Warrant, Llarena said.
The charge of rebellion carries a maximum of 30 years in prison in Spain.
In addition to withdrawing the European Arrest Warrant against Puigdemont, Llarena also annulled the warrants issued for five other pro-independence politicians: Antonio Comin, Luis Puig, Meritxell Serret, Clara Ponsati and Marta Rovirathat.
Puigdemont and several of his deputies had fled Spain after the referendum to avoid arrest. Despite initially settling in Belgium, Puigdemont was arrested in Germany on March 25, just after crossing the Danish border on his way by car from an engagement in Finland back to Brussels.