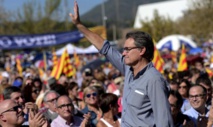 Puigdemont, whose independence bid as Catalan regional president sparked a constitutional crisis, is expected in Denmark on Monday.
The 55-year-old is scheduled to participate in a discussion at the University of Copenhagen in the afternoon, according to a statement.
If the ousted politician goes ahead with the plan, Spanish prosecutors will immediately request that the Supreme Court in Madrid re-issue a European arrest warrant against him, El Mundo newspaper reported, citing judiciary sources.
Puigdemont was removed from office in late October after his regional government in Catalonia declared independence.
He later fled to Brussels in order to avoid imprisonment.
An initial European arrest warrant was revoked by the Spanish Supreme Court in December, in part because Puigdemont was expected to return to Spain sooner or later, particularly after Catalonia's separatist forces retained their parliamentary majority in fresh elections following Madrid's crackdown.
However, Puigdemont has said he would govern Catalonia from Belgium if he is re-elected president by the regional parliament.
Puigdemont and several of his former ministers face criminal charges of rebellion, sedition and misappropriation of funds.