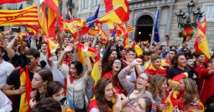 While Puigdemont and his former ministers - Antonio Comin, Lluis Puig, Clara Ponsati and Meritzell Serret - are no longer international fugitives, they may still face arrest if they return to Spain.
In a judicial order, Judge Pablo Llarena said it was "appropriate" to drop the warrants. The charges against the politicians might now be pressed collectively, rather than individually, to avoid "contradictory and diverging responses" from Belgian courts to extradition requests, he added.
The announcement coincided with the first official day of campaigning ahead of fresh regional elections in Catalonia, set for December 21.
In Spain, eight other former regional ministers have been sent to prison, but six were freed Thursday after paying bails of 100,000 euros (118,600 dollars).
Puigdemont's deputy, Oriol Junqueras, and his former interior minister, Joaqui Forn, remain behind bars.
Puigdemont and Junqueras are the lead candidates in the upcoming elections for their respective parties, the centre-right PDeCAT and the leftist ERC.
A spokesman for Puigdemont was reluctant to respond to Tuesday's announcement by the court, saying that his lawyers have yet to analyse its implications.
In a press conference near the Flemish city of Bruges last month, Puigdemont urged Catalans to treat the upcoming vote as an opportunity to "accept or not" the measures imposed by Spanish President Mariano Rajoy's government on the region.
The government of Catalonia was dismissed by Madrid after the regional parliament voted for independence on October 27.
That followed an October 1 referendum on the issue, which went ahead despite Spain's Supreme Court ruling that it was illegal and police attempts to stop it which led to five people being seriously injured and hundreds reporting bruises.
According to an unverified count by Catalan authorities, 90 per cent of about 2.3 million voters backed secession, but the legitimacy of the poll has been called into question since only 43 per cent of the electorate took part in it.
Notepad