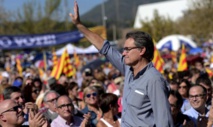 Catala said Puigdemont was asked a "clear" question - whether his region has issued a unilateral declaration of independence - but "it seems that the reply is not so [clear]."
Speaking at an event in Madrid, Catala said it is "a little soon, premature" to respond, and that "an official response of the government [will come] in the next hours."
Deputy Spanish Prime Minister Soraya Saenz de Santamaria is scheduled to make a statement on the Catalan crisis at 10:30 am (0830 GMT).