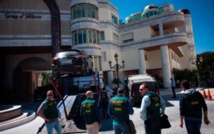 Judge José de la Mata has also moved to block 16 bank accounts held by individuals suspected of being connected to Rifaat al-Assad and deposit accounts belonging to 76 companies.
Investigators believe that more than £250 million in Syrian public funds have been siphoned into these accounts. The judge ordered the seizure of more than 500 properties worth £590m owned by Assad and his relatives, a court statement said.
Real estate belonging to Rifaat al-Assad and his relatives in Spain includes parking spaces in garages to villas, luxury apartments and country estates, virtually all in Marbella and nearby Puerto Banús, a glitzy marina development.
Among the property identified as belonging to the al-Assad family is an estate called "La Máquina" (The Machine), a spread of more than 3,300 hectares just outside Marbella that is believed to be worth around £50 million.
No arrests have yet been announced in what Spanish police have dubbed Operation Scar. According to judicial sources cited by the newspaper El Confidencial, besides Rifaat al-Assad, Spanish police are investigating six of his sons, some of his daughters-in-law and two of his four wives.
The youngest brother of Hafez al-Assad, the Syrian dictator who passed power on to Bashar al-Assad, Rifaat was vice president of the country in the 1980s before being forced into exile amid accusations of preparing a coup against his older brother.

H
e allegedly had a role in the 1982 massacre of thousands in the central city of Hama, one of the darkest moments in the modern Middle East,
as
leader of an elite military corps under Hafez, which he has denied.
Judge De la Mata believes that he took around £250 million with him on leaving Syria and began to buy property in Luxembourg, Liechtenstein, Curaçao and France, where he settled.
The current investigation in Spain stems from an ongoing probe in France, where Rifaat al-Assad has been accused of embezzling public funds and money laundering.
Last month another Spanish judge opened an investigation into nine members of the Assad regime in Syria for alleged "state terrorism" in the kidnapping, torture and murder of a lorry driver who disappeared in Damascus four years ago.
The landmark case, brought on behalf of the victim's sister, a Spanish citizen, is the first to be pursued against the Assad regime by a European court.
----------------------------
The Daily Telegraph