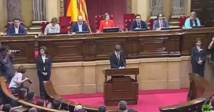 All five had been summoned to a hearing at Madrid's National Court, facing charges of rebellion, sedition and misappropriation of public funds.
According to Spanish media reports, a judge is preparing the European arrest warrant for Puigdemont and the other four ex-members of his government. The Spanish media had prematurely announced that the warrant had already been issued on Thursday evening, but spokespeople for the judiciary clarified it was unlikely to happen before Friday.
Once Judge Carmen Lamela issues the arrest warrant, Puigdemont could be immediately detained by Belgian authorities and subsequently face extradition.
The Spanish court has already ordered pre-trial detention without bail for eight other former members of the regional government, who did testify in court, including ex-vice president of the Catalan regional government Oriol Junqueras.
A ninth former member of the regional government, Santi Vila, was given bail of 50,000 euros (58,300 dollars).
Extradition of the ex-government members from Belgium would likely take up to 60 days, and would potentially cast a shadow over Catalonia's regional election campaign, with a fresh vote scheduled for December 21.
Hundreds of people took to the streets of Barcelona on Thursday evening to denounce the judge's moves. Unions have called protest strikes in the coming days.
Puigdemont's Belgian lawyer said on Wednesday that he would not return to Spain to testify in the hearings, and had proposed that Puigdemont instead be questioned in Belgium.
In a press release issued on Wednesday, the self-proclaimed "legitimate government of Catalonia" said that Puigdemont and his four former cabinet members would remain in Belgium during the trial in order to denounce "a political trial carried out according to the Spanish government's directive."
In addition to Puigdemont, the former Catalan officials still in Belgium are Antoni Comin (minister of health), Meritxell Serret (agriculture), Clara Ponsati (education) and Lluis Puig (justice).
In an editorial published in the New York Times, Junqueras struck a defiant tone, referring to Catalan independence as a "historic milestone," and criticized the Spanish government's repeated rejection of independence efforts and subsequent crackdown in the region.
"Many times and in many ways we have tried to speak out for our rights, but the Spanish government has never listened," wrote Junqueras, adding that Madrid "wants only servile obedience."
"We must recompense our forces, persevere and have no doubt that with the civility and peaceful attitude we have always displayed, we will continue to advance as far as we decide to go," wrote Junqueras.
The Spanish central government dismissed Puigdemont's secessionist regional leadership hours after the Catalan parliament in Barcelona voted to proclaim an independent republic on October 27.
Notepad