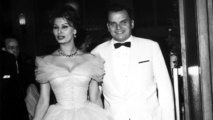 The new prize, a Silver Bear marking the festival's 70th anniversary, will be awarded by the international jury.
The German newspaper Die Zeit reported in January that Alfred Bauer, who was in charge of the Berlinale from 1951 to 1976, was a "high-ranking functionary in Nazi film bureaucracy." He is said to have concealed his role.
The Berlinale has now asked the Institute for Contemporary History (IfZ) to research Bauer's past.
"We are convinced that an external and independent group of historians should investigate Alfred Bauer's position in the Nazi regime," Berlinale executive director Mariette Rissenbeek said in a statement.
The IfZ was created in 1949 to scientifically study the National Socialist dictatorship.
The Alfred Bauer Prize had been awarded since 1987 to honour particularly innovative film-making.
Notepad