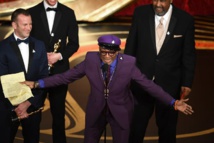 The film was nominated for six Oscars this year, including directing for Lee and best picture, but only took home the award for adapted screenplay. And Lee made it count.
Upon taking the stage, and jumping into the arms of presenter
Samuel L. Jackson
, Lee delivered a jubilant acceptance speech that touched on slavery in America, Black History Month and paid tribute to his 100-year-old grandmother - the daughter of a slave who saved 50 years of
Social Security
checks to send him to college.
"Before the world tonight, I give praise to our ancestors who helped build this country and what it is today, along with the genocide of its native people," Lee said. "If we all connect to our ancestors, it will have love, wisdom and we'll regain our humanity. It will be a powerful moment."
"The 2020 presidential election is around the corner," he added. "Let's all mobilize. Let's all be on the right side of history. Make the moral choice between love versus hate. Let's do the right thing!"
("You know I had to get that in there," he added as a joking aside, a reference to his 1989 film.)
Despite directing a number of acclaimed films throughout his career, the 61-year-old received his first nomination for directing this year, but the win went to "Roma's"
Alfonso Cuaron
. Lee was previously nominated in 1990 for the screenplay of "Do the Right Thing" and in 1998 for his documentary "4 Little Girls." He received an honorary Oscar in 2015.
The filmmaker has remained outspoken about his criticism of the academy, as well as its snubs of his movies throughout his career. He was notably absent at the Oscars in 2016 amid the #OscarsSoWhite controversy, when the ceremony lauded only white nominees in the acting categories.
Then, backstage on Sunday, he expressed his distaste for "Green Book" winning best picture over "BlacKkKlansman."
"I'm snake bit - every time somebody is driving somebody, I lose!" he said. Lee's "Do the Right Thing" was overshadowed by "Driving Miss Daisy" in 1989. "But they changed the seating arrangement?"