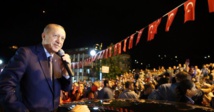 The call between Erdogan and British Prime Minister Theresa May focused on the economy, trade and investments, as well as the Syrian crisis, Turkish state-run news agency Anadolu reported.
Erdogan held another call on Monday with German President Frank-Walter Steinmeier, according to Anadolu.
Citing sources within the presidency in Ankara, Anadolu reported that Erdogan and Steinmeier both showed determination to strengthen diplomatic ties.
They also discussed preparations for Erdogan's state visit to Germany at the end of September and a meeting planned between both countries' finance ministers in Berlin on September 21.
The calls come after personal calls by Erdogan to his French counterpart Emmanuel Macron, and German leader Angela Merkel in recent weeks.
Turkish Finance Minister Berat Albayrak also met his French counterpart Bruno Le Maire in the French capital. Talks with his British counterpart were being organized.
The Turkish lira has lost as much as 40 per cent of its value since the beginning of the year as Ankara's relations with Washington deteriorate amid a range of issues, in particular Turkey's detention of US citizens, including pastor Andrew Brunson.
A Turkish court refused to release Brunson from house arrest earlier this month. He faces terrorism-related charges.