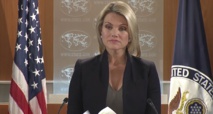 "He will take a look at it," she said.
Expropriation of land without compensation "would risk sending South Africa down the wrong path," she said, without responding to official South African assertions that no seizures have taken place.
Nauert refused to say if Pompeo attempted to brief Trump on the facts on the ground in South Africa: "We never get into the private conversations between the secretary and the president - on any issue, for that matter."