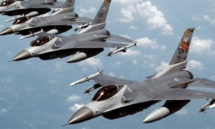 The state-run Syrian News Agency (SANA) said the Israeli "aggression" targeted the area outside of the city of Misyaf. A Syrian military source told dpa the sound of loud explosions were heard.
So far, there has been no comment from Israel.
A Lebanese security source said Israeli planes used Lebanese airspace to hit targets in Syria.
The Britain-based Syrian Observatory, a watchdog, said Israel targeted military posts for the Syrian government troops.
Israel had previously conducted strikes against targets in Syria, claiming they were part of an effort to prevent Iran from building up its military influence in the region.
Iran has been a major ally of Syrian President Bashar al-Assad since a pro-democracy uprising erupted against his regime in 2011.