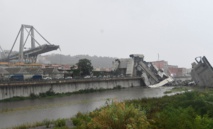 Conte declared the 12-month state of emergency after a special cabinet meeting in the north-western port city.
He gave the official death toll as 39 and earmarked 5 million euros (5.7 million dollars) for urgent relief efforts, promising to appoint a commissioner to help rebuild the affected area.
Conte, who overnight said he experienced "the longest and most difficult day as prime minister," also said 16 people were injured, including nine in a critical state.
Earlier Wednesday, Genoa Chief Prosecutor Francesco Cozzi told RAI state broadcaster that 42 people had died, but that figure was not confirmed officially.
The Morandi bridge foundered on Tuesday, one day before a national holiday, during a heavy thunderstorm, sending 30-35 cars and three trucks crashing to the ground from a height of 45 metres.
About 630 people were told to leave nearby homes because remaining parts of the bridge might collapse over them, authorities said, adding that the homes will probably have to be knocked down.
Some 1,000 rescue workers were taking turns in non-stop efforts to extract bodies and - hopefully - survivors from the rubble, also using sniffer dogs.
"Work will continue for many hours," Regional President Giovanni Toti told reporters, even if there is "feeble hope" of finding people still alive.
Three children aged 8, 12 and 13, as well as several foreigners - four from France, two from Albania, one from Romania, one from Chile - were named among the casualties.
The Morandi was a key artery for Genoa, connecting motorways heading west to the French border and north-east to Milan. Its collapse was expected to cause major congestion problems.
The reinforced concrete structure was seen as innovative when inaugurated in 1967, but according to multiple reports, it was in need of constant repairs.
Motorway operator Autostrade per l'Italia had commissioned for later this year a 20-million-euro makeover of its concrete beams, which are suspected to have broken and caused the tragedy.
Several trucks and cars could still be seen on the surviving part of the bridge, including a green lorry which managed to stop just before the road gave way.
Conte pledged an "extraordinary monitoring plan" to verify the condition of Italy's ageing road infrastructure, "because we cannot afford more tragedies like this one."
Infrastructure and Transport Minister Danilo Toninelli blamed Autostrade per l'Italia for the Genoa collapse, and called on its management to resign immediately.
He also said Autostrade should pay for a new bridge, and threatened the company with the revoking of its motorway concession and fines of up to 150 million euros (170 million dollars).
Deputy Premier and Interior Minister Matteo Salvini opened another front, complaining that EU budget discipline rules were preventing Italy from investing on infrastructure upgrades.
Italy cannot freely spend money because of "strict ... rules imposed by Europe," and always has to "ask for permission" from Brussels, the eurosceptic politician told broadcaster Radio24.
A European Commission spokesman disputed those claims, noting that Italy was eligible to receive EU funds worth 2.5 billion euros over 2014-2020 for road and rail upgrades.
The EU executive also recently approved Italian state aid for motorway works and has encouraged the country to invest on its infrastructure, the spokesman added.
Meanwhile, Autostrade per l'Italia insisted that the Morandi bridge was "monitored ... every three months" with "highly-specialized machinery" and following "international best practices."
Two years ago, an engineering professor at Genoa university, Antonio Brencich, called the bridge a "failure of engineering" with "very high maintenance costs."